Literacy in the Leaves
Suitable for Y2 and above
These workshops take place in your school grounds. Whether it be a concrete jungle or a grassy nook, all settings are catered for. After an initial visit and consultation, I work with a focus group of children on a weekly basis for half a term at a time, or just as a one-off session if preferred.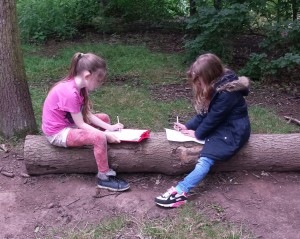 We use the outdoors as an experiential and engaging stimulus for writing, building confidence and tapping into the children's imaginations to build up a bank of ideas and techniques. This has proven impact on literacy when back in the classroom.
Often groups of disengaged boys are chosen for these workshops.
Contact: holly@fish-in-a-tree.co.uk for more information.