The Team
HOLLY  – Founder
In 1998 Holly packed her bags and went off backpacking around the world, returning just in time for the millennium. This experience not only reignited a love of exploring and discovering new places, but also solidified her views of the value of outdoor experiences being an integral part of the learning process, and of the many benefits of the great outdoors. She has applied this view throughout her career in education.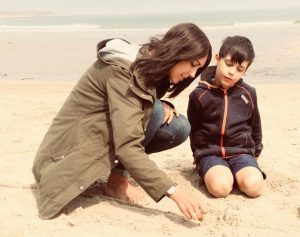 Before setting up Fish in a Tree, Holly had been lucky enough to have had vibrant and varied experience of working in education. She started her career as a class teacher in key stage 2 and soon became a key part of a team who transformed a failing school by developing a brand new curriculum controlled by the pupils. This was based around a town, creating real life scenarios. Pupils ran the town's democracy, economy and community; the results of the school doubled, and it was recognised for its innovation, attracting visitors from all over the world. It was championed by the DfES Innovations Unit and the QCA Futures Unit. During this time, Holly became an AST in creative thinking and learning skills, supporting fellow professionals and delivering workshops and training throughout Derbyshire.
Having always been passionate about outdoor learning and consistently incorporating it into her work with children, it was a natural progression for her to qualify as a Forest Schools leader in 2011.
In addition to working outdoors with all ages, Holly has written blogs for a range of organisations dedicated to outdoor learning, including The Wild Network, and has had her writing published in an anthology. She is also a speaker with School Speakers.
Holly is dedicated to creative, imaginative, experiential learning outdoors and embraces any opportunity to share her passion for this. She has three young adventurers of her own who can often be seen getting involved at various events.
In addition to her teaching qualifications and L3 Forest Schools, Holly is fully DBS checked and holds an up to date outdoor first aid qualification. She is also holds an MA in creative writing.
Mark
Since being small, Mark has always been passionate about the great outdoors. He is most at home when sitting outside his tent in the middle of nowhere, cooking over a campfire. Mark's two children are familiar faces at our holiday clubs.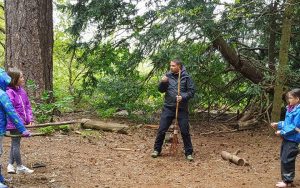 Mark worked in construction for many years before choosing to work for himself; using his skills to do small scale renovation work and home improvements. Mark has an expansive knowledge of bushcraft, survival and all things nature. He works with Holly once a week, helping to deliver forest schools to the Fish in a Tree home ed. group, passing on his skills and injecting a strong dose of fun! He is also involved in holiday clubs.
Mark is always sharing skills with other bushcraft enthusiasts and getting involved with community projects. He is outdoor first aid trained and DBS checked.
Vicki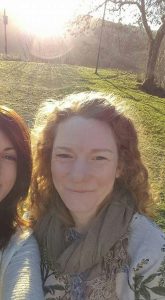 Vicki grew up in the Derbyshire Peak District where she developed a life long love for the outdoors. She still lives in the Peak District and is always out and about with her two children; taking them on Swallows and Amazons style adventures!
She completed her teacher training in 2002, and since then has taught from Y2 to Y6. She is known for her outdoors approach and artistic flair. She has a passion for environmental art and is always trying out new ideas.
Vicki is a qualified level 3 Forest Schools Leader and works alongside Holly during some of the group and holiday club sessions.  In addition to her teaching qualifications, she is fully DBS checked.
Lorraine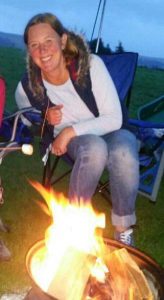 Lorraine is a full-time teacher and qualified level 3 forest schools leader. She leads occasional holiday clubs and loves getting involved in Fish in a Tree adventures.
Lorraine introduced Forest Schools into her current school and was blown away by the impact it had on the children. Moreover, she makes it her mission to incorporate exciting, imaginative, outdoor learning into her practice as often as she can.
Lorraine and Holly can often be found swapping ideas, and daydreaming about woodland adventures over a big mug of coffee (or cheeky glass of wine) in one of their gardens.
In addition to being an exceptionally talented qualified teacher and forest schools leader, Lorraine is DBS checked and outdoor first aid trained.