FISH IN A TREE PARTIES ARE FULL OF FRESH AIR, FUN, ADVENTURE AND

MAGIC

!
Choose a theme, or we can create a bespoke party just for you…anything is possible

!

Parties are suitable for ages  4-11 and themes include:
Fairies

Gruffalo

 Bug safari

Pirates

Spies

Robin Hood

                   Survival
Parties last approximately 2 hours, and cost £160 for a maximum of 12 children
This includes printable party invitations, popcorn and marshmallows for toasting over the campfire and a chance for every child to take away something they have made, be it sword, bow and arrow, magic wand, fairy house, clay creature or something else that takes your fancy!
Parties take place at a beautiful private, gated woodland at Elvaston Castle..or we can come to you.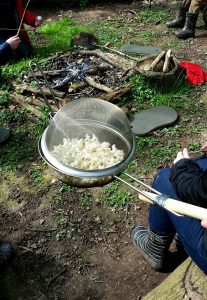 Hosts bring along any food that they would like their guests to eat; hotdogs are a popular choice, with sausages being sizzled over the fire! Alternatively, hosts often choose to bring a party lunch box for each child, or we can provide these if preferred for £5 a head. ( Party lunch boxes provided by us contain sandwiches, crisps, a box of raisins, a cake and juice)
Parties are facilitated by a fully qualified, DBS checked, Forest schools leader.
At least 2 additional adults are required to stay at the party.
Contact Holly for more information